ICE LICENSE OVERVIEW
The strongest and most complete protection available today for Borland Delphi and C++ Builder. ICE License v2.0 is a new and innovative licensing protection system for Borland developers wishing to integrate copy protection and maximum security into their applications. With ICE License you can create "Trial Editions" of your software. Key generation is prevented using sophisticated asymmetric encryption technology.
ICE License is regularly evaluated by professional developers around the world. Their findings repeatedly demonstrate that this tool has many advantages over other copy-protection systems.
| | |
| --- | --- |
| Type : | Software Protection and Licensing Management |
| Operating system : | Windows 95/98/Me, Windows NT/2000/XP (SP2) |
| Current version : | v2.0.2.11 (last update : 5 Nov 2005) |
| Product requirements : | Borland Delphi 4,5,6,7,2005 (win32), C++ Builder |
| Prices : | 129.95 Euros (Standard) and 299.95 Euros (Pro) |
GET TOTAL CONTROL & PROMOTE YOUR SOFTWARE SECURELY
ICE License v2.0 is an innovative and complete licensing and VCL copy protection system designed to provide a high level of security.

With ICE License v2.0 it's easy to turn your application into "try-before-you-buy" versions with little effort, offering everything to guarantee maximum protection. If you want to protect your investments, ICE License is designed specifically for you. ICE License v2.0 has been created for the software developer looking for powerful and flexible protection, license management tools and to retain total control of their software products when delivering them into the hands of their customers.

BUILD MULTI-EDITIONS IN ONE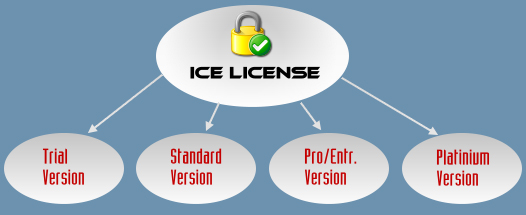 Building one product version and using digital licensing to partition that product through license-based feature access controls reduces the need for distinct product upgrades and saves engineering and quality assurance costs.
ICE License Protection can help you prevent key generation and therefore help to protect your investment.

FEATURES
Antidebugging & Antimonitors Protection to prevent reverse engineering :
ICE License v2.0 contains antidebugging and antimonitoring routines which provide a good way to prevent people from spying on your software. ICE License contains special code to defeat most Debuggers and Monitors including W32Dasm, SoftIce, TRW 2000, Turbo Debugger, Sourcer, Filemon, ExeSpy, ResSpy, RegMon, InCTRL 5 and Memory Monitor (more...) which are all tools in the crackers toolkit. You can protect your Applications developed and running under Win95, Win98, WinNT and Win2000, WinXP.
New Sophisticated Asymmetric Encryption Technology to protect against Key generation :
ICE License Protection provides a high barrier against illegal copy using the power of Elliptic Curves Asymmetric Encryption to protect your application. The Elliptic Curves encryption system allows for the transmission of secret information over an open channel without a common secret key previously shared between the ends of the transmission. Your application is protected by two keys; One key (public key) is inside your application and the second is a private key known only to the developer. These two keys are used in combination to encrypt and decrypt the software Key.
Even if cracker can access at the source of ICE License protection, he cannot make key generator, due to the Elliptic Curves Asymmetric Encryption (based on public key asymmetric) systems, example : RSA Encryption, the source is available on the net, but it's very hard to break.
Only you can control the software license creation so that no key generator can be made!
Runtime Source Code Encryption to prevent against patching or cracking :
Fragments of code are marked in your source code by using special start and end marks. These fragments of code are recognized by ICE License in the compiled application and are additionally encrypted during the protection process. Runtime encrypted code always stays encrypted in memory. It's managed by special code each time it should be executed. Due to the encrypted blocks inside your software, your program cannot be completely cracked without a real key. This ActiveKey can be provided only in the Full License Key.
Even if cracker can access at the source of ICE License protection, he cannot crack (to turn in full) your software, because inside your compiled executable, the key for decryption is not inside, it's different approach than other protection.
Advanced Digital Autentication to protect information :
ICE License Protection uses a hash algorithm to create a highly advanced digital signature to check for program tampering. This protects your executable against modifications. In essence, we use MD5 and CRC32 to verify data integrity, and is much more reliable than checksum and many other commonly used methods.
Application Strings Protection encrypt your strings :
With the SecureStrings feature, you can encrypt all strings in your application. SecureStrings encrypt and decrypt in memory to protect them from being viewed or changed by anyone other than developer. These options provide good protection against executable modification. All ICE License information is encrypted and protected in your project resource to reduce the risk of being cracked.
Machine Locking Protection to prevent illegal copying of your software :
Machine locking prevents your software from being illegally duplicated and used on other machines. The License can be run on the specified machine only. This protection it's based on CPU, Bios and Hard Disk manufacturer identification. This protection is not based on the getvolume and other routines that require you to send a new license if the user reformats their HDD.
License Transfer Capabilities :
Sometimes people change computers or want to take your software on the road on their notebook computer, ICE License allows you to :
· 1) - Remove the old license and prevent it from being used on the old computer.
· 2) - Transfer the license to a new computer.
ICE License allows you to control licenses on your customer's machines reliably using Machine ID protection.
Lock & Prevent against illegal License Exportation - UNIQUE ! :
ICE License is the first and only protection which enables you to retain total control of licenses using country locking. With this new technique, you can prevent illegal exportation of the LicenseKey.

For example:
If you create a LicenseKey for a customer located in the United States, other people from around the world cannot use this LicenseKey.

Even if a customer tries to deploy or supply the LicenseKey for other people arould the world, the LicenseKey will be not valid. This technique allows you to protect your LicenseKey against illegal warez or serialz websites.

Create a Special Key generator for your Distributor or Partner :
ICE License Protection allows you to create a key generator for your Distributor or Partner to allow them to create licenses for your customers without the need to contact you.
Network Protection - Get total control (using the TCP/IP protocol) :
ICE License is designed for networks and allows you to control the number of simultaneous users. It lets you effectively license your application in network environments by controlling the number of software copies that can run at the same time or by assigning the application to specific workstations by Computer ID.
By assigning a LicenseKey to a computer in the network, you can secure your application against unauthorized use and monitor the number of workstations using your application simultaneously.
ICE License can prohibit the copying of your software from the server hard drive, limit the number of simultaneous workstations, or assign the application to specific workstations by Computer ID.
ICE License can limit and lock the number of allowed network users or computers.
ICE License Overview :
· Antidebugging & Antimonitors Protection (protect against Code Tracing)
· Sophisticated Asymmetric Encryption Technology (prevent against Key Generator)
· Advanced Digital Authentication to prevent against patching
· Advanced Code Encryption Protection to prevent against cracking or dumping
· Transfer License to another PC (Trial License or Full License)
· Create a Key Generator for your partner or distributor
· Detects backdating or demo reinstallation to gain additional usage
· AES Rijndael Encryption functions to protect your data
· Cryptographic hashing MD5 to lock licenses to your software
· Reliable Machine Locking Protection (based on manufacturer's information)
· Network LAN Control Protection by TCP/IP Protocol (in Trial or Full Mode)
· Encrypt & Hide Application Strings to provide a high level of security
· Prevent and Control your LicenseKey against illegal exportation - New !
· Using compact LicenseKeys to register with ActiveKey for increased security
· Add Extra Information inside License (in Trial or Full Mode)
· Compatible with Lockdown environments in Windows (Limited User Mode for NT4, 2000, XP)
· View LicenseKey to see details about any License
· Create custom URL links to directly access your ordering web page
· Invisible software based protection requiring no dongles
· Create evaluation copies of your software by days, number of uses, hours or a set date
· Compatible with Windows 95, 98, Me, NT, 2000, XP (with SP2)
· Support Windows XP SP2 (from ICE License v2.09)
· Sources available in Pro Edition only include VCL + ICE Network Server source but we don't provide the source of ICE License Manager

ICE License actually resists piracy and also prevents the spread of universal cracking methods.
Lock your software by different modes :
· Free Mode (without time limit)
· Expire after an absolute date
· Expire software after a specified number of days
· Expire after a specified number of executions
· Expire after TimeOut
· Network Protection by limiting the number of users or locking to a specific Computer ID

Our Services :
No one knows ICE License better than we do. Our solution is a complex piece of software. It has to be to make it secure.
If you don't have the time for implentation or are having some difficulty implementing our component, we offer a service for ICE License Protection implementation in your application source code using remote control (under an internationally binding Non Disclosure Agreement, if you wish). This gives you the best possible protection at an affordable price.
What does it cost ?

We charge a flat rate of 39.95 Euros per hour : Contact us


You can find a review of ICE License v1.0 by Mike Riley from Delphi Informant magazine :

" Ionworx's ICE License Protection offers many popular and flexible methods of application license protection, and its Network Protection feature supports simultaneous workstation connection limits. MD5 digital signature and debugger/monitor tool circumvention provides a more than adequate level of casual cracker toolkit hacks." [ Read Full Article ]